Pispala Schottische International Folklore Festival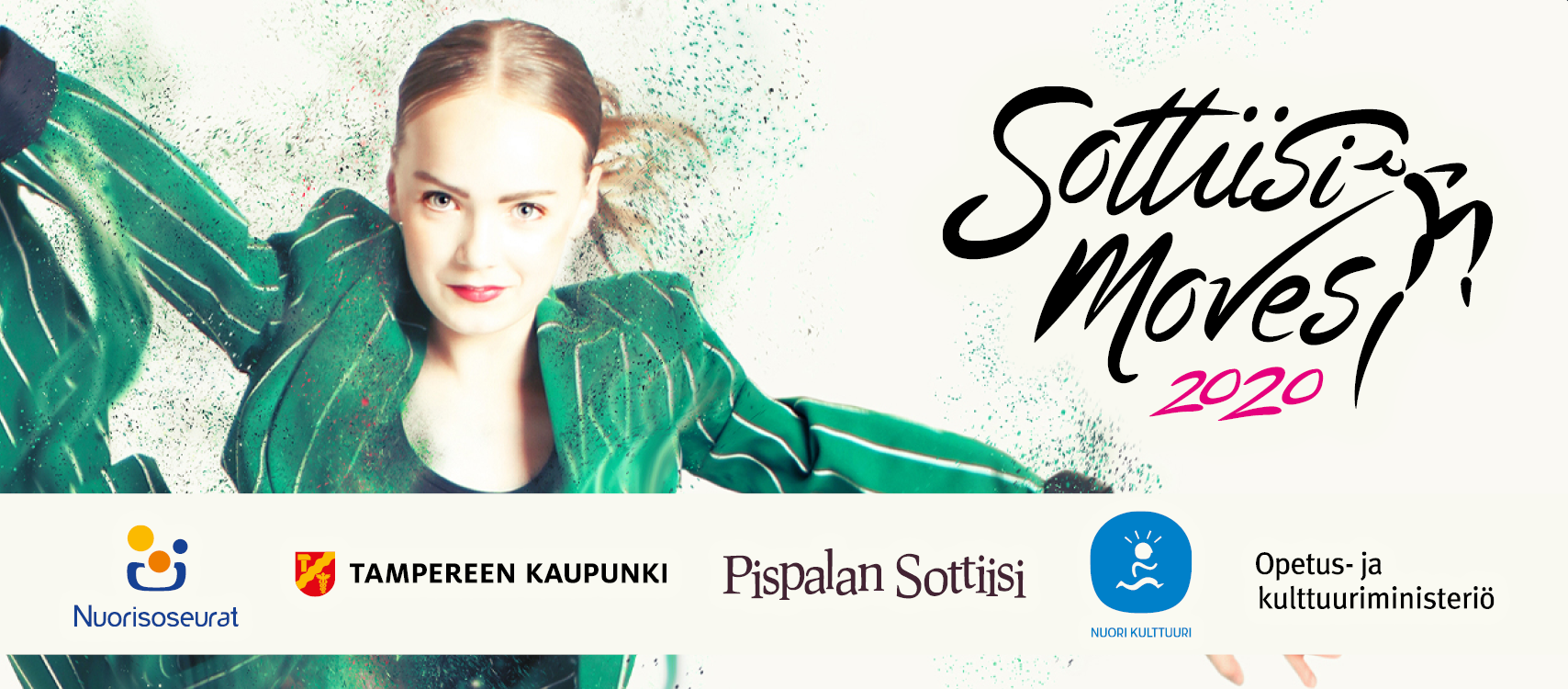 SOTTIISIMOVES 2020 WILL BE MOVED TO AUTUMN 2020
SottiisiMoves 2020 is a dance and music event in which Pispala Schottische International Folklore Festival and Young Culture celebrate their 50th anniversary in Tampere. It is organized by the Finnish Youth Association. The theme of the year is License to Dance!, which means that truly everyone can dance at this festival if they want to.
According to the latest decisions of the Finnish Government, many of the restrictions caused by the coronavirus pandemic will be extended until May. The SottiisiMoves 2020 event wants to act responsibly and follow the guidelines and decrees set by the authorities. As a result, the Finnish Youth Association has decided to start preparations to move the event from mid-June to a later date. The new date will be set for next autumn and it will be announced during April.

"The most important thing for us is to organize an event that takes into consideration people's safety and health. This is something that we do not want to risk in case the coronavirus pandemic lasts until summer. However, we believe that the situation will develop for the better, and we want to hold a celebration where everyone can enjoy great experiences," says Jukka Heinämäki, Director at the Finnish Youth Association.
The essential parts of the SottiisiMoves 2020 program are the Moves and Tanssiralli gatherings for children and youth, the couple dance production License to Dance! as well as concerts and events around the city center.
 Thank you for all the support!
 More information:
The Finnish Youth Association / Pispala Schottische International Folklore Festival 
Director  
Jukka Heinämäki  
Tel. +358 50 526 8957  
jukka.heinamaki@nuorisoseurat.fi 
www.sottiisimoves2020.fi
www.nuorisoseurat.fi
The Finnish Youth Association is the most significant cultural child and youth work organization in Finland. Over 40 000 members participate in its activities. The SottiisiMoves 2020 event combines Pispala Schottische International Folklore Festival and the national dance gathering Young Culture Moves.
---
SottiisiMoves 10-14 June 2020
SottiisiMoves 2020, the largest dance event in the Nordic countries, will gather 2500 dancers in Tampere next summer. The event combines Young Culture Moves, the national dance gathering, and Pispala Schottische, the international festival on folk dance and folk music. SottiisiMoves 2020 welcomes everyone who is interested in dance and folk to celebrate dance and music and witness how different styles and artists meet each other. Both Pispala Schottische International Folklore Festival and Youth Art Event, later known as Young Culture, were organized for the first time in 1970, and they will have their 50th anniversary next year.
SottiisiMoves 2020 will be organized by the Finnish Youth Association.
---------------------------------
Pispala Schottische, this lively international folk music and dance festival is an annual celebration of the joy of dance that fills the streets and squares of the old industrial city of Tampere with a versatile programme of indoor and outdoor concerts, competitions, training events, seminars, night dances and club evenings.
This major international celebration of folk dance and music has been bringing enthusiasts and their friends to Tampere since 1970 for the most footloose scene of the summer. Next year will be the jubilee of the festival. Welcome to celebrate the 50 years with us on the 10 – 14 of June in 2020.
Contact info:
Pispalan Sottiisi - Pispala Schottische Festival
Executive Director Mr. Jukka Heinämäki
Festival Producer Ms. Jaana Kari
Information and Media Relations Ms. Maarit Saarelainen
Cultural House Laikku, Keskustori 4
FI-33100, Tampere, Finland
Phone: +358 50 40 98 332
info@sottiisi.net
www.sottiisi.fi
Pispala Schottische is organized by the Finnish Youth Association (Suomen Nuorisoseurat). It is a national non-governmental organisation which has over 700 local associations, 15 regional associations and over 20 000 members in Finland. All the associations organise various leisure time activities which are mainly based on culture such as folk dance, theatre, circus, and arts.
We are a member of CIOFF (The International Council of Organizations for Folklore Festivals and Folk Art). Membership in CIOFF requires festival to fulfill certain criteria concerning the number of groups invited, duration of the festival, and quality of the festival organisation.

Find our festival rules & regulations here.
#saatanssia #licencetodance #sottiisimoves #pispalansottiisi#pispalaschottische #kaustinenfolkmusicfestival#suomenkansanmusiikkiliitto #paritanssilahettilaat #elavaperinto#intangibleheritage #nuorisoseurat